Visual journaling is a constant source of joy for me and I want to help you experience the same.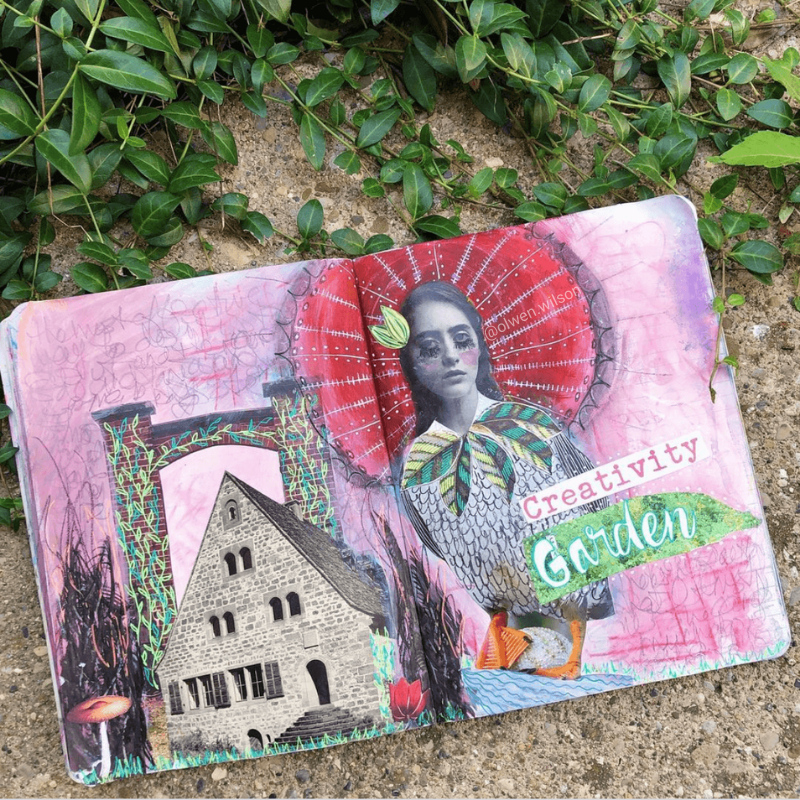 Exploring Creative Connection
Through Visual Journaling will help you:
Expand your creative confidence so that you're led by your excitement, not your fear.
Manage your stress to avoid burnout.
Deepen your self-awareness through play.
Boost your mood and imagination so you'll go after what you never thought was possible.
Build a supportive self-care practice that'll naturally evolve through your curiosity.
Improve your ability to fully experience the present moment.
"Do yourself and your mental health a favor and take Olwen Wilson's visual journaling course. It's a wonderful environment to learn, play, and do deep healing work that you can continue on your own for the rest of your life."
— R. F.
What is visual journaling?
It's a creative way to express and record your thoughts, feelings, wisdom, and reactions through the use of words and imagery.
It allows you to take the time to listen and observe your inner and outer worlds without judgement, only noticing.
It's a simple but powerful practice.
This course will help you appreciate the process instead of focusing only on the final product of your visual journal.
In this self-paced, four-week online course, we'll set you up to succeed no matter how much, time, talent, or energy you have! 
Once you complete your purchase, you'll have immediate access to the first few sections. Each week, more sections will become available to you.
The lectures within a section can be watched/read/listened to in approx. 10 minutes or less.
This way you can focus on taking the time you want and need to play and have fun with your visual journal.
While the content is initially dripped out weekly, this is a self-paced course. Which means it's impossible to fall behind!
Do as much or as little as you'd like and trust that you're going to get what you need by participating in ways that work best for you.
Also, you have access to this course for an entire year from your date of purchase.
I encourage you to review the material during the year to deepen and invigorate your practice.
Exploring Creative Connection Through Visual Journaling gives you ample opportunities to access your intuition while playing in a joyful way!
No previous artistic or creative experience is required. Beginners are welcome! Adults only, please.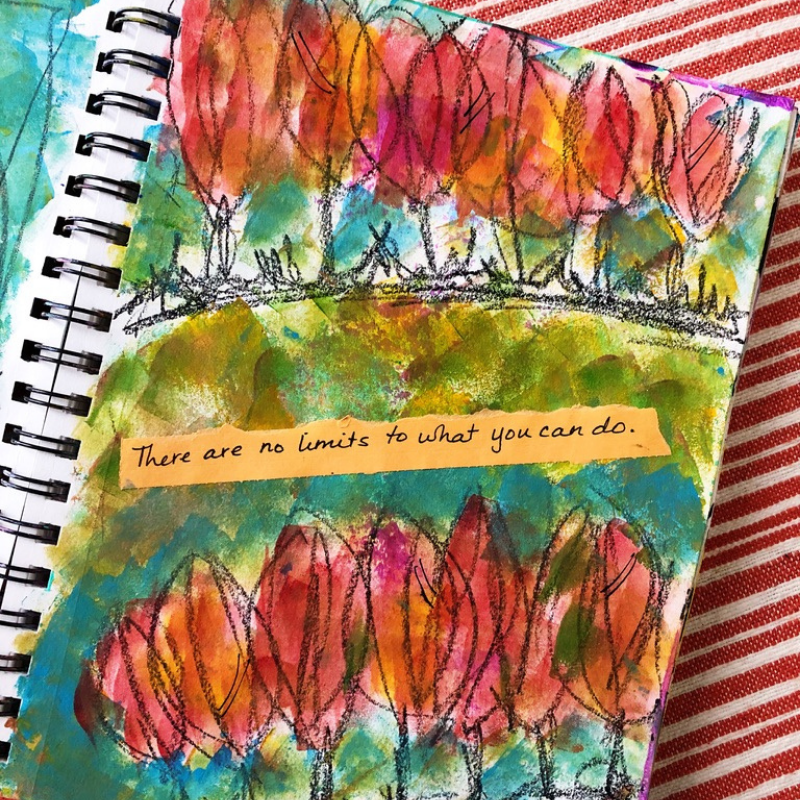 "It opened me up creatively in a way I wasn't expecting. And it amazed me that however much time I spent on pages, whether it was 5 minutes or an hour, I felt much calmer, less stressed, and able to get going on with work quicker which is a BIG deal with ADHD. Working with Olwen is a beautiful, fun and no-pressure way to care for myself. The warm and welcoming atmosphere she creates gave me space to explore my heart and mind. This work led to realizations about myself and my life I don't think I would have come to without it."
— E. R.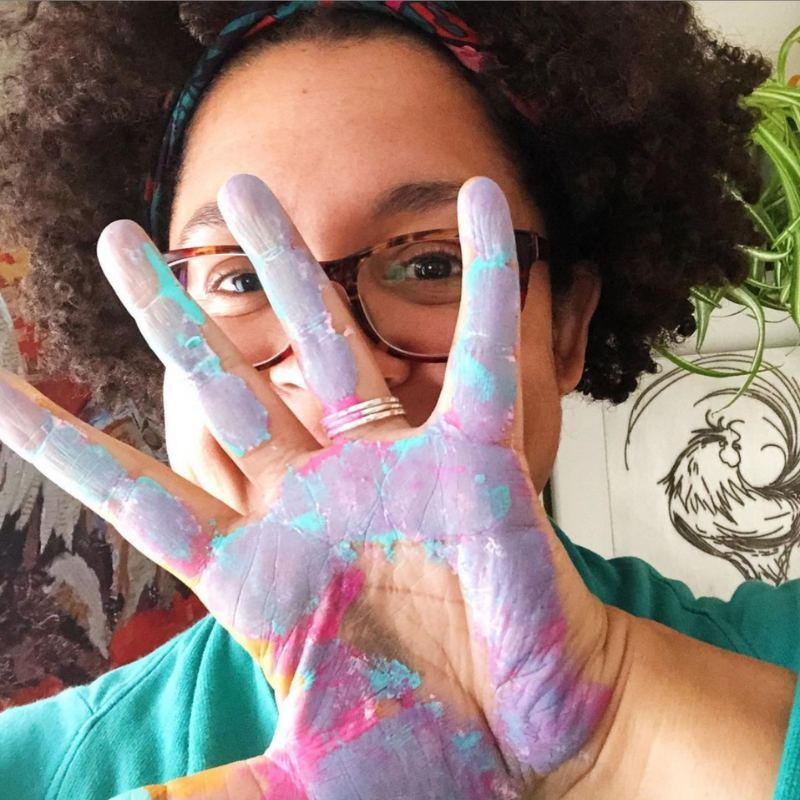 A few times a year, enrolled students will be invited to join our Zoom group gatherings so that we can create in community.
There will be time for questions, conversation, and of course visual journaling!
Generally, these live (but virtual) gatherings happen in February, June, and October. They'll be held on a North American weekend, and vary in time to help include participants who live in different time zones.
Exact dates and times will be announced to students 2 - 3 weeks in advance via email.
It'll give you even more opportunities to dive deeper into your visual journaling practice as we come together to create in community. Enrolled students will receive invitations by email.

"If you ever get a chance to experience the inviting, creative magic of Olwen Wilson and her visual journaling sessions, I highly recommend you say HELL YES.
I've never left a session of hers feeling anything less than energized, free, and full of deep, soul-level joy."
— B. M.
"When there's very little I can do that doesn't trigger my brain trauma symptoms, Olwen's way of guiding and inspiring and giving space without judgement is the one thing that has helped."
— S. K.
This is for you if:
You love journaling and writing and/or making visual art but you sometimes have doubts about your talent so you avoid them.
You enjoy making a fun, creative mess but you don't know how to add yet another thing to your ever-growing "to-do" list.
Sitting still in meditation doesn't bring you the joy you hoped it would.
You appreciate discovering the beauty of small wonders and hidden delights.


This isn't for you if:
You expect to learn how to copy someone else's artwork instead of making your own intuitive creations.

You expect this course to be a substitute for medical attention, examination, or therapy. It isn't.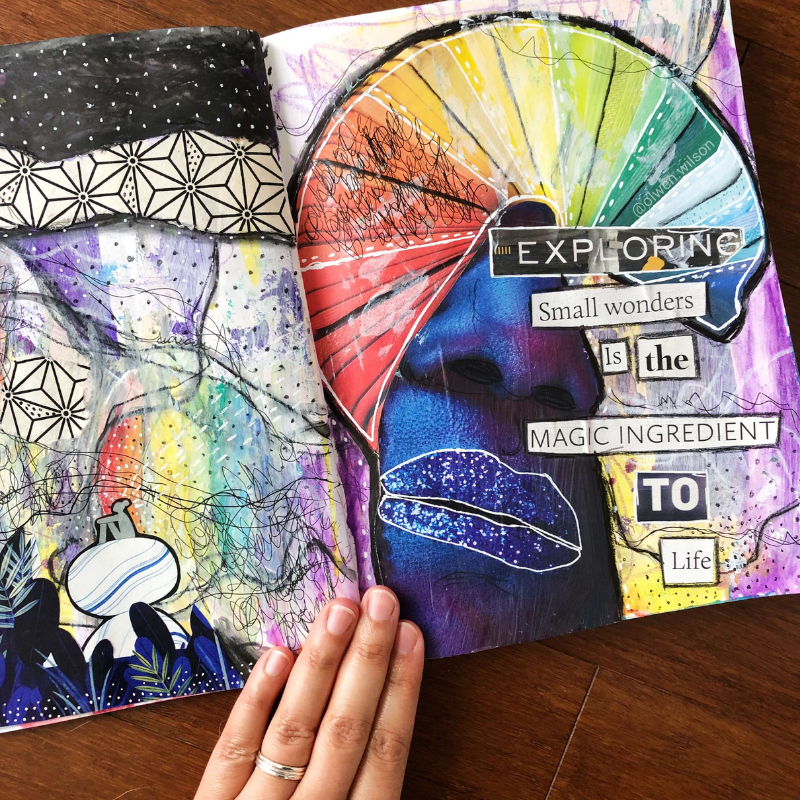 Exploring Creative Connection Through Visual Journaling Curriculum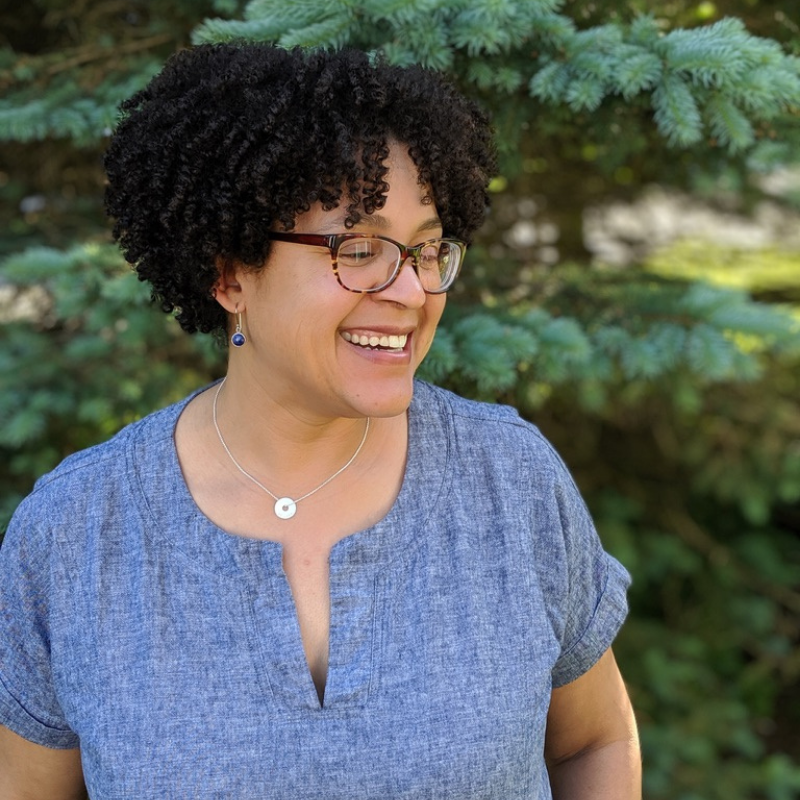 Olwen Wilson is a writer, artist & creative facilitator who helps people who are drawn to visual journaling and making visual art but they don't feel like they have enough talent or time. She helps them figure out how to make it a part of a regular practice in a way that helps them clear their mind (even for a moment), get better at making decisions, and take action.
More importantly, she'll help you explore your heart and your mind to remember the wisdom that you already possess.
Having taught self-care practices for over a decade, Olwen's practiced everything from yoga to energy healing, drumming to meditation. But the one she keeps coming back to the most is visual journaling. It helped her learn to trust herself again after suddenly getting diagnosed with a chronic illness, rheumatoid arthritis so that she could stop wasting time waiting and worrying about what other people think and go after what's important in life.
Olwen uses she/her pronouns, but they/them pronouns are also acceptable. Olwen's name is pronounced All-wen.
"I have taken so many classes and bought so many books on journaling and I never quite got out of journaling what I wanted to get out of it. I've always wondered what I was missing and why can't I get this when everybody else seems to get it. Then I took this class with Olwen and I got it! She taught me how to get out of this process what I've been wanting for almost 30 years. It's absolutely magic!"
— A. S.
FAQ
Do I need to know how to draw to take this course?
Not at all!
I'm going to show you easy ways to get over your fear of the blank page, and how to add some colour, marks, and words in ways that will excite you to keep trying new things.
You're welcome to join whether you consider yourself an artist or think that you don't have a creative bone in your body.
Bring your curiosity and interest - these will take you far! You'll learn how to use simple supplies in ways that work best for your visual journaling practice.
How long will I have access to the course?
You'll have access for one year so you have plenty of time to go through it as often you'd like.
After all of the content is initially shared weekly, you can revisit any part of the course in any order that you wish.
Why can't I access all the content at once?
Because I want to encourage you to take your time with it. I want you to have the space to dream and to integrate what you're learning.
I've created space in this course so that you don't feel rushed to do everything all at once.
Instead, you can focus on taking the time you want and need to play and have fun with your visual journal.
How much time should I dedicate to this course?
That's totally up to you!
The lectures within a section can be watched/read/listened to in approx. 10 minutes or less.
You can choose to work/play in your visual journal for only a few minutes to as much as a few hours.
You'll find examples throughout the course material where powerful shifts have occurred in a short period of time. Sometimes as short as two minutes!
It's been my experience that longer visual journaling sessions occur because you're thoroughly enjoying your creative process and you don't want to stop making fun messes!
What supplies do I need?
I'm all for keeping it simple, so at the very least, you'll need:
Something to write/doodle/draw/paint with
Something to write/doodle/draw/paint on
However, you'll find a downloadable supply list in the course material that includes some of my favourite art supplies. Many of which you probably already have access to!
There's also a video showing you some of my favourite journals that I like to use.
Are there chances to work directly with the instructor and create in community with other people?
Yes!
A few times a year, enrolled students will be invited by email to attend a visual journaling session hosted on Zoom with me, Olwen Wilson.
Generally, these live (but virtual) gatherings happen in February, June, and October. They'll be held on a North American weekend, and vary in time to help include participants who live in different time zones.
Exact dates and times will be announced to students 2 - 3 weeks in advance.
It's a great opportunity to bring your questions and/or to simply have some supportive company while we make fun messes together!
These sessions are completely optional but you'll only receive their benefits if you attend live.
Can I sign my child up for this workshop? It sounds like a fun activity for us to do together.
This course is intended for adults.
I welcome people to bring their messy selves to this practice, and having children present when we connect on Zoom (see above FAQ) might make some people uncomfortable sharing their thoughts and feelings. Plus, this is your chance to focus on YOU!
Visual journaling is absolutely beneficial for children and I love seeing kids be creative. I loved art and drawing when I was a kid too, and I fully support my son in all of his artistic interests. But this course isn't geared towards children.
And I can share that many people who have taken this course find that it naturally helping them deal with the stress of these uncertain times which in turn also helps their kids.
Can I take the material in this course and share it with a group of my friends? Will I be able to create my own course or workshop?
No. Nope. Nuh-uh.
The information and material in this course are for the enrolled student's personal use.
It's not to be sold or shared by anyone other than me, Olwen Wilson.
I'd be happy to have a conversation with you about hiring me to facilitate a tailored workshop for your people. Click here to contact me so that we can discuss it further.
I have more questions before I join, who can I ask?
Click here to contact me, Olwen Wilson, directly.
I'll be happy to answer any questions to make sure this is the right fit for you.
Past participants are:
Making and selling their art.

Helping themselves and their kids deal with the stress of these uncertain times.

Writing screenplays and TV shows.

Getting promotions and new jobs because their innovative thinking is impressing the right people (& themselves!).

Attracting opportunities instead of wasting time & energy hustling to find them.

Playing more which makes them so much happier.



Are you curious to find out what this course will do for you?
"I'm enjoying the space this course is giving me to play and dream!"
— S. M.
"If you love the idea of making art but you don't necessarily feel like you have talent or skill and you just want a warm, safe place to make some art for the joy of it, you need this course."
— M. S.
"It has been refreshing to do visual journaling because it feels like a treat to be able to 'be myself' and express myself without any barriers or expectations or pressure to please anyone. It also feels so rewarding to use my art supplies for me again and not for another kids' craft project."
— E. C.
"Olwen teaches gently and with a generous heart."
— D. V.
Let's Stay In Touch
Subscribe to Olwen Wilson's newsletter,

A Fun Mess, so you don't miss any

 stories, tips and techniques that'll help you see the world in different ways.